Oren's Cypress Bath - Yamanoyu

The lodge's bath, Yamanoyu, is a semi-open-air bath that is constructed out of fragrant Japanese cypress wood. The bath is filled with natural spring water drawn from the spring right in front of the lodge and is heated using only firewood. On a clear day, you can see Mt. Iodake painted in the colors of the sunset from the bath's wide window.
Bathing hours:
2:00 p.m.–8:00 p.m. (5:30 p.m.– 8:00 p.m. for campground users)
¥500 bathing fee for campground users
How to Use Oren Lodge's Bath
Meals at the Lodge

Enjoy hearty local dishes from the Yatsugatake area such as our sakuranabe (horsemeat sukiyaki hotpot) and a special breakfast that will keep you energized on the trails.
Cafe
We also offer a cafe menu during the day on our terrace. Try our popular borscht stew, have a bowl of hot ramen noodles, or a filling plate of curry and rice. Quench your thirst with our selection of soft drinks and alcoholic beverages—including refreshing beer chilled in the cold mountain stream!
Cafe hours:
10:00 a.m.–2:00 p.m. (Open until 3:00 p.m. on weekdays)
*Drinks are available until 8:00 p.m.
Rooms at the Lodge

New Annex - Private Rooms
Mt. Iodake and Mt. Minenomatsume can be seen from the south-side rooms, and on a fine day, you can even get a view of the far off peaks of Mt. Ontake. From the rooms on north side, get up close to the enchanting forest of Mt. Yatsugatake's northern end with the chance to catch an occasional glimpse of the wild birds and squirrels living there.
Sleep soundly with our comfortable, down-filled and wool futons, clean blankets, and soft mattresses. There are nine private rooms available for groups of three to eight guests.
Private rooms can be reserved at a first-come, first-serve basis at no extra cost.

Main Lodge - Large Rooms
The large rooms in the main lodge are shared with other guests, but we keep the number of people to a minimum so you relax and rest properly.
In the shared rooms, men and women are separated into different rooms if space allows. We can also accept group reservations for groups of around 24 people for large rooms.
Other Facilities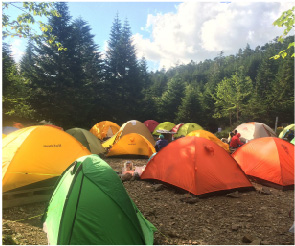 Campground
Our campground is great even for first-time campers and family camping. Wooden pallets for setting up your tent are available at a first-come, first-serve basis, and the spring water can be used free of charge. (Reservations are not required for campers.)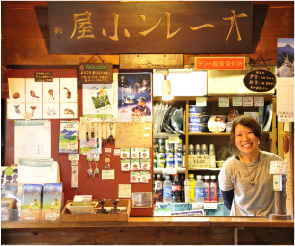 Shop & Lodge Hall
Drinks and other items are available for purchase at the shop/reception desk. You can enjoy them in our cozy lodge hall, which is equipped with a wood-burning stove. What better way to relax after your long day of hiking!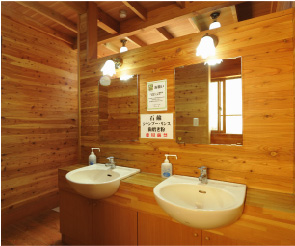 Clean, flushing toilets
The lodge has separate women's and men's restrooms with flushing toilets (western-style). We pride ourselves in providing clean, sanitary restrooms for our guests.
Using the restrooms at Oren Lodge