Facilities
Oren Lodge (elevation 2,330 m) is located in a specially designated nature protection area in the Yatsugatake Chushin Highlands Quasi-National Park. Although we can't offer the same services or luxurious facilities like other hotels, we do take great care in making Oren Lodge an environmentally friendly facility while providing a comfortable stay for you as a guest.
We appreciate your cooperation in helping us preserve and protect the wonderful nature of Mt. Yatsugatake!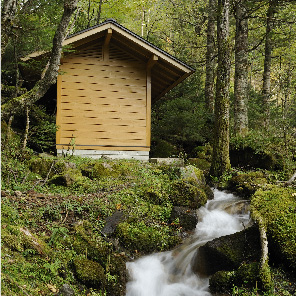 Electric Power
We generate electricity with a zero-emission water generator, 24 hours a day.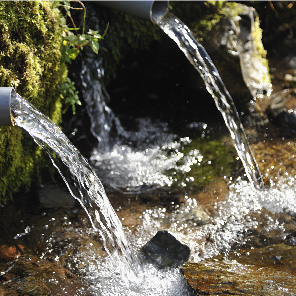 Water
Being located at the source of natural springs, we have access to an ample supply of natural spring water, which we use at Oren Lodge.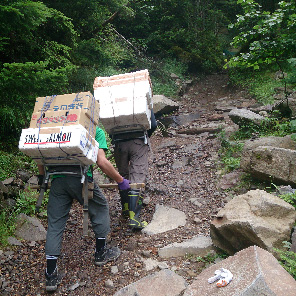 Stocking Supplies
Most of our supplies are carried up to the lodge using only manpower. Each person carries an average of 30 kg one hour up the mountain (for overly heavy or large supplies, a helicopter is used).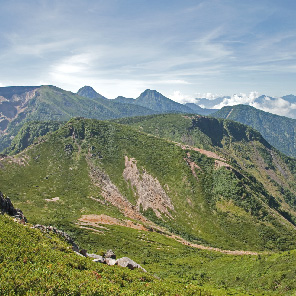 Mobile Phone Service
Service (DoCoMo only) is available in the Yatsugatake Mountains.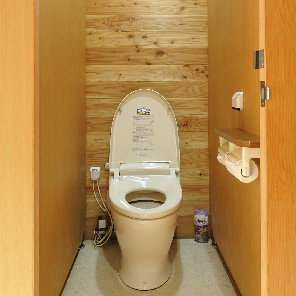 Toilets
Oren Lodge is equipped with flushing, western-style toilets and our own water purifying septic system.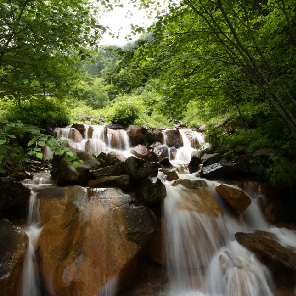 Waste Disposal
Waste, such as leftover food and trash, are taken down the mountain by hand. We also ask you to take your own trash back home with you.
Using the Lodge's Facilities
How to use the Yamanoyu bath

| | |
| --- | --- |
| | Check the temperature of the water before getting in the bath. |
| | Please wash your body before getting into the water. |
| | Please do not use shampoo or soap in the bathing facility. |
| | Do not use the bath after drinking alcohol. |
| | Children must be accompanied by an adult when bathing. |
Using the restrooms at Oren Lodge

| | |
| --- | --- |
| | Being located in a remote location, managing the water, electricity, and septic system for the lodge's flushing toilets is very difficult. We ask everyone (besides overnight guests) to pay ¥100 to use the toilets. |
| | The toilet's septic system cannot process paper, so please discard toilet paper in the nearby disposal box after using the restroom. |
| | The toilets are a shared facility. Please keep them clean for the next person. Also, please help in saving paper by not using more than needed. |
Frequently Asked Questions
Is it required to make a reservation in advance?

Yes, please make a reservation if you want to stay at Oren Lodge. (Reservations are not required for the campground. Please come directly to the lodge if you are camping.)

Are there any times when it is difficult to make a reservation?

In July, the lodge can be crowded due to the large number of student hiking trips in Yatsugatake. On some days during this period, the lodge may be completely rented out.

What are the check-in and check-out times?

The regular check-in time is from 10:00 a.m. to 3:00 p.m. Check-out is 8:00 a.m. (breakfast is served from 5:30 a.m.). You can leave your luggage (excluding valuables) in the hall on the first floor, so you can enjoy trekking without lugging around heavy baggage.

Does Oren Lodge serve lunch?

We offer lunch from 10:00 a.m. to 3:00 p.m. on weekdays (and until 2:00 p.m. on weekends/crowded days). Menu items include borscht stew, curry and rice, udon noodles, and other dishes. We also sell instant noodles in the lodge shop.

Can campground users eat dinner at the lodge?

We cannot provide dinner for campground users. If you plan to stay at the campground, please make sure you prepare your own food and equipment for cooking.

Is smoking allowed?

Smoking is not allowed inside any of the lodge facilities, but you may smoke outside providing you bring your own ashtray.

What kind of meals are provided for children?

For dinner, children's meals are the same except that adults receive two more side dishes. For breakfast, the children's meal may differ slightly from the regular breakfast menu.

What is the closest parking lot to Oren Lodge?

The closest parking lot is at Sakuradaira. In general, there are always parking spaces available, even on weekends and long weekends. Make sure you do not keep any valuables in your car, as it can put you at risk for theft.

How can I prevent elevation sickness?

In order to help your body adjust to the high elevation, we highly recommended going at a slower pace when hiking. Take breaks more frequently than usual, drink plenty of fluids, and eat high-energy foods. Taking in an appropriate amount of salt is also important for maintaining your energy level. In general, symptoms of elevation sickness may appear at 2,400 meters and up. Because Oren Lodge is located at a slightly lower elevation of 2,330 meters, staying at the lodge helps your body adjust to the higher elevations.
Tips for Beginning Hikers

| | |
| --- | --- |
| | Always have the following equipment and supplies with you when hiking or trekking: rain gear, a warm layer of clothing, a hat, gloves, water bottle, head lamp, and high-energy foods for emergency situations. |
| | Make sure you stretch well before departing to help prevent injuries. |
| | Plan to leave early in the morning and arrive at (or return to) the lodge no later than 3:00 p.m. |
| | In the case of strong winds or rain, it is important to know when stop and turn back. Do not continue your hike if you are not confident in your skill level. During very windy weather, many of the trails around Oren Lodge require a high level of experience and skill. Please ask out staff to suggest alternative trails. |
| | If you are not feeling well, inform the staff at Oren Lodge immediately. |
| | Make sure you go to sleep early and get plenty of rest the day before hiking or trekking. |